At first glance, it looks like everyone in the family is having fun, acting out goofy scenarios for the camera. Well, yes, it's a family of artists, and each seems comfortable revealing playful, creative poses that are far from ordinary family snapshots. But on closer examination, we see that this extended performance of role-playing and intimate interactions is serious art, and not quite so light and frivolous as it seems at first.

In a brilliant new photo book called Family Games, French photographer Diane Ducruet has broken free of all the usual formulas and has come up with a thought-provoking series of staged portraits that play with the ideas of family dynamics, identity, control, influence, postures of power, and more. The work becomes a kaleidoscope of subtext as members of the family slip in and out of expected roles: mother, father, sister, brother, daughter, son, husband and wife.

In one series, the males of the family (father and son) seem not the least bit embarrassed to be pictured dressed only in underwear, with slightly sagging bellies, as they assume comic-heroic poses that mimic old paintings and historic statues.
https://www.lensculture.com/articles/diane-ducruet-family-games
Martine Fougeron documents the delicate, turbulent stages of adolescence through intimate portraits of her own children's lives.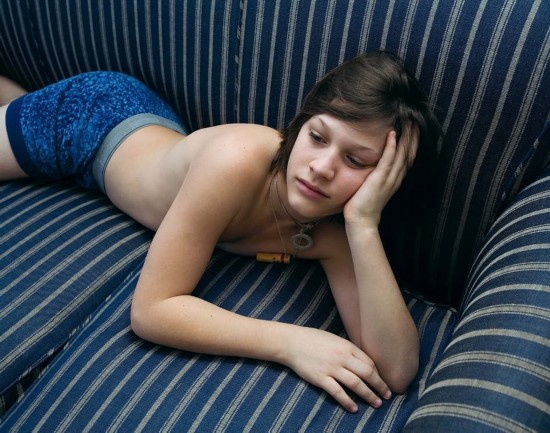 "Shafran first became known for radicalizing fashion photography in the 1980's. His current work focuses on the still life details of everyday living-scenarios that are drawn from domestic spaces and the mundane world.The high production values of this work together with the artist's deep interest in the commonplace, has led to the creation of melancholic portraits of people and places."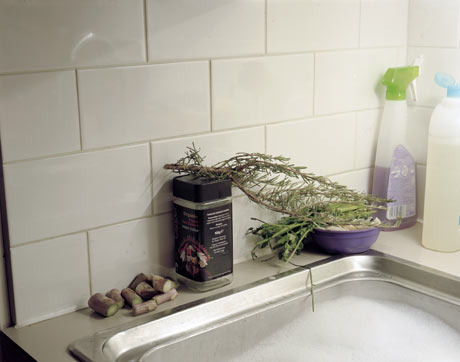 http://www.theguardian.com/artanddesign/gallery/2012/mar/27/gillian-wearing-takeover-mask#/?picture=387780724&index=0
One of Gillian's projects involved using masks to pose as other people. Amongst strangers she also recreated portraits of her brother, sister and herself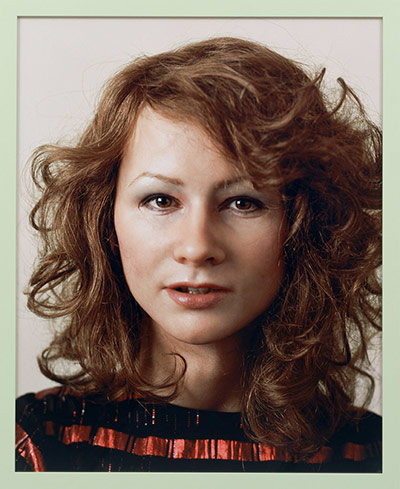 "Born in Italy with French origins, I moved and relocated in several countries growing up uprooted and torn apart between different cultures. My personal research gravitate around the theme of identity, portraiture is my favourite medium of expression."
(2009) Air de Famille
This project aims to answer a question about my origins. Born in Italy by French and Italian parents, I incessantly moved and relocated in several countries since my childhood, growing uprooted and torn between different cultures. Considering myself as a result of all these experienced cultures, I instinctively refuse to identify me with just one specific land or country. Nevertheless, I deeply feel the necessity to understand where is home, the place that I will always carry in my heart through my ceaseless vagrancy. I then choose to link my origins to a psychological and emotional place focusing on the representation of my family: the series of portraits depicting (physically) my grand parents and (psychologically) our shared love sphere, is the most intimate that I could think of.
Martina Mullaney (Turn In)
Working in night shelters and hostels for the homeless, Irish artist, Martina Mullaney produced a series of photographic works of these environments which respond metaphorically to notions of isolation and remoteness.
Comprising Mullaney's elegant, minimal large-scale colour photographs, images taken by some of the homeless clients from the shelters and hostels, and an insightful essay by Mark Durden questioning morality and aesthetics, Turn In is both thought-provoking and politically-charged and showcases a unique body of work which challenges assumptions about photographic portraiture and representations of the dispossessed.
In the history of photography Nixon's ongoing series of family portraits The Brown Sisters (1975 – ) is the best in the world. Beautifully structured and composed the photographs are nuanced and sensitive to the people portrayed and the passage of time. The subjects project and recede within the image frame, exposing vulnerability, intimacy and strength. Simply breathtaking!
The Social: Landscapes of Leisure
The photographs are echoingly familiar, yet also distanced. As in the traditions of large-scale history painting that inform them, we encounter highly socialized and deliberately lyrical environments. Yet these are thoroughly contemporary landscapes, where ordinary people get on with their various activities and pursuits. Some of these are solitary – taking the dog for a walk, or lost in reverie on a park bench. But most of all these are sociable and socialized environments, full of activity. To some viewers the locations will be immediately recognizable, while for many others the ways in which people use and inhabit the spaces – having a picnic, flying a kite, playing football or cycling – provide the more immediate points of connection. Roberts' post-industrial landscapes were taken on sites of former heavy industry, such as Silksworth Ski Slope, sited on a former slagheap of the Silksworth Colliery or St. Peter's Riverside, once the centre of Sunderland's shipbuilding industry.
As in many of Simon's projects, themes of memory and identity attach to the otherwise ordinary past-times and vistas. The relationships between people and places create a rich tapestry of social observation, while the high and often distant vantage points give a sense of the contemporary existence of each different landscape, as well as the accretions of historical use, social transformation and reinvention.